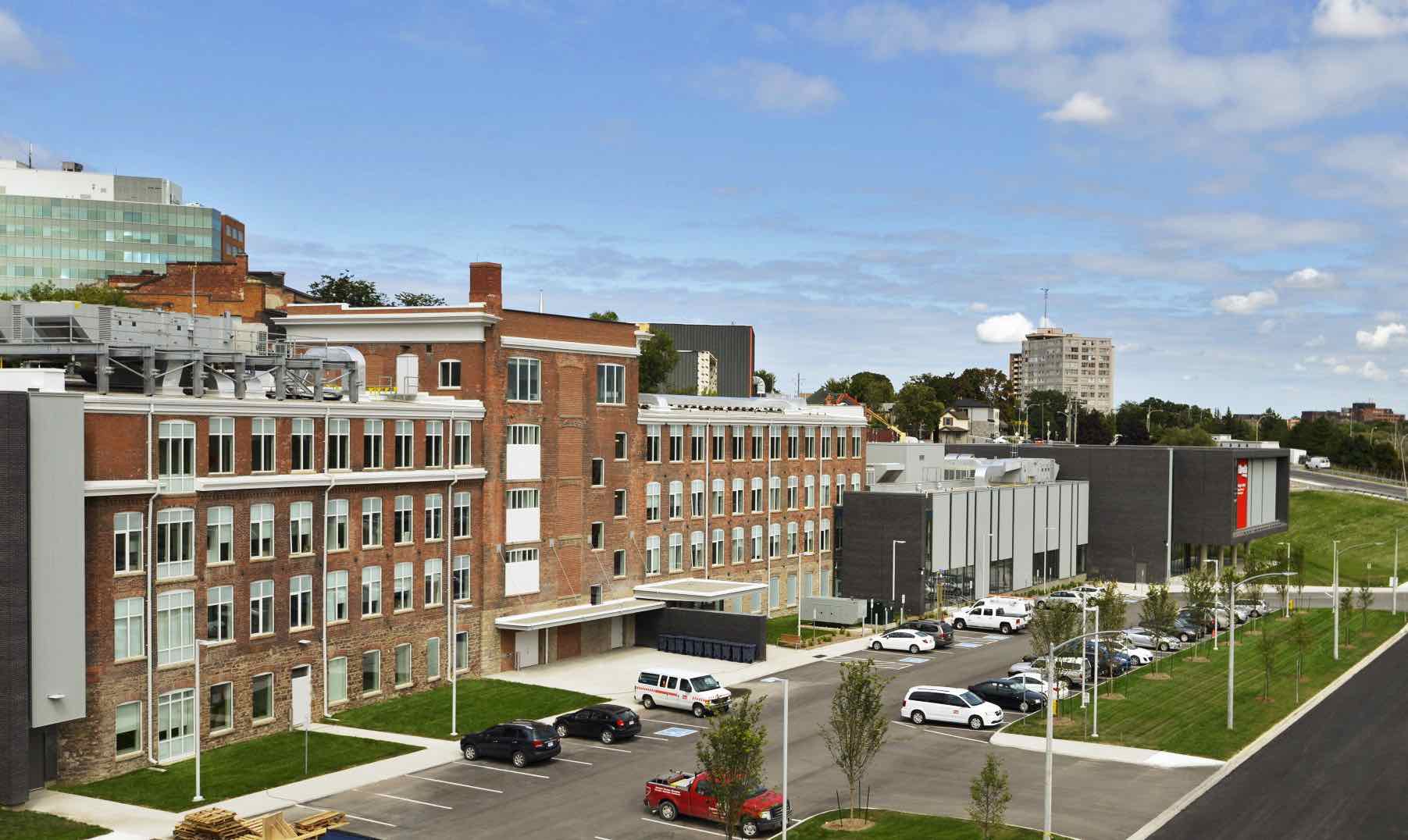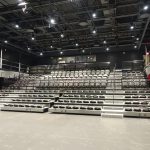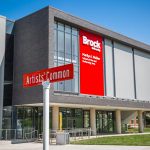 Work is nearing completion on the new Marilyn I. Walker School of Fine and Performing Arts. The building, a unique collaboration between Brock University and the City of St. Catharines, is expected to play a role in revitalizing and transforming downtown St. Catharines. AerialRendering
Bird Construction Group is constructing the $45 million project designed by Diamond & Schmitt Architects.
The structure, situated on the historic water raceway that powered an old factory, is separated from the City of St. Catharines' First Ontario Performing Arts Complex (PAC) by a non-vehicular pedestrian zone.
The film theatre and Cairns Recital Hall within the new PAC will be used by the school for academic activities. Intended for both student and community use, the facilities are expected to create a municipal arts and culture hub.
Sight N Sound Design Inc. has provided expertise to support the project's complex audio and video requirements.
"The relocation of the Walker School fulfills Brock's mission of reaching out and engaging the community in direct and meaningful ways," Derek Knight, the school's director and Marilyn I. Walker chair in Creativity, Imagination and Innovation has said.
"Not only will our presence play a key role in helping revive the city's downtown core, but also our long-term commitment to fine and performing arts education ensures a continuing and vital role in our interactions with community arts groups, including local theatre companies, art centres and orchestral, choral or musical groups."
Scott Roper, Brock University's project manager, campus planning, design and construction, said that the architect succeeded in understanding the university's objectives to "inspire the creativity of students, faculty and staff with the unique site and spatial intrigue of this group of historic buildings and new additions."
"The architects resolved a diverse and extensive range of academic requirements with an equally diverse and challenging set of existing buildings to give the initiative a distinctive place," he said.
The former Canada Hair Cloth building on St. Paul St. and an adjacent warehouse have been rehabilitated for multi-purpose use by the departments of dramatic arts, music, visual arts and the Centre for Studies in Arts and Culture. The building will provide state-of-the-art production and workshop support, music practice facilities, art studios, lecture and seminar rooms as well as a versatile stand-alone 235-seat theatre for drama students.
The five-storey factory renovation included reclamation of the existing brick façade, wood flooring, pressed tin ceilings and fire doors to maintain and showcase the building's heritage. New mechanical and electrical systems and improved acoustics and life safety systems have been installed.
The new 2,300 sq. m. construction will house a theatre with retractable seating, an art gallery, lobby space, study areas and dressing rooms.
Roper says from a design and programming perspective, the project had a very diversified set of spatial requirements including art, music and dramatic arts studios, practice rooms, a learning commons, theatre and dressing rooms, scene shop, costume shop, frame shop, darkroom, digital music and digital media labs, and an art gallery.
"All of this had to be carefully fitted into buildings of various ages containing unique spatial conditions including narrow floor plates, a column line at 8 ft. centres, a warehouse and an industrial shed," he said.
He says extensive study and several phases to envision the new academic concept by faculty resulted in the final design. "Music was assigned the oldest area with the heaviest masonry, dramatic arts to the warehouse, and visual arts studios were assigned to the top floor after the removal of the columns. The theatre was turned sideways and fitted between two existing buildings, minimizing the structure to be demolished and the new build required."
AerialRenderingRoper says the small site and the series of narrow and linear buildings made it necessary for Bird to maintain tight control of the movement of construction personnel, equipment and material. "As in any building with features built and connected to one another in different decades, existing construction did not always follow predictable construction methods. This created some unanticipated conditions, all of which were dealt with by Diamond & Schmitt Architects and Bird Construction."
Sight N Sound supplied and installed the unique combination of pieces specified by acoustic designer Jaffe Holden. Sight N Sound president Ken Lewis says the facility is equipped with technology designed to mimic the experiences of a real world stage.
Roper says there are four dramatic arts studios, two of which are intended for performance, along with the main theatre which offers "total versatility with respect to seating layout and lighting and scenes due to grid coverage of the entire space and a gantry for students to design and set up the space."
Lewis says the Stage House (main theatre) and the two performance studios have been designated for high quality sound and video projection capabilities.
He says perimeter-based audio-visual connection panels will allow students to connect peripheral devices with flexibility to move equipment around. "There is a large control booth for the Stage House and a shared control booth for the smaller studios."
He says custom-manufactured acoustic panels are mounted into the walls to be flush so they are visible but not intrusive and an effort has been made to integrate cabling as much as possible. "Everything has been done with the overall design in mind. The acoustic panels have been manufactured in aluminum with high quality jacks and systems both for quality and design."
He says the studio has been equipped with equipment boards and the audio reproduction to play back pre-recorded sounds. High quality and distinct loud speakers will perform differently and serve different functions.
In addition to the main studios, Lewis says peripheral areas have been connected to allow paging into the surrounding areas, and capability built into the green room and dressing rooms will allow players to watch the on-stage performances to watch for cues. "The cabling system is extensive for maximum flexibility. Just about every cable lands on a patch for rerouting so there are several hundred patches in all which will give the students flexibility to simulate everything they need."
To create the high quality, noise-free sound required for the theatre environment, Lewis says extra precautions were taken to isolate all of the wires from the equipment racks. Great power capability he says has been achieved through high wattage amplifiers.
Knight says the project will have a significant impact on the university's academic programs in dramatic arts, music, visual arts and its Centre in Studies in Arts and Culture. "It places Brock's Marilyn I. Walker School of Fine and Performing Arts amongst the most competitive of university programs in the country. New facilities mean exceptional opportunities for faculty and students alike."
He says the investment represents "a long-term commitment to a generation or more of aspiring artists, performers and musicians; the cultural renaissance that this signifies is also key to the revival of the downtown core of the City of St. Catharines."
"This is a well-built, beautiful teaching facility. We are proud to have been involved in helping create the real-world environment the students will enjoy," says Lewis.
Roper calls this a unique and remarkable project for the university. "It is a leading edge demonstration of what can be done to revitalize old buildings. The excitement of bringing the building project to successful completion is only the first step in what will be an extraordinary new learning environment for students and enrichment of the downtown arts environment, all of which will be fully realized in just a few months."
The project has been funded in part through the provincial government's Open Ontario program with a $15 million contribution from Canadian fibre artist Marilyn I. Walker. Substantial completion was achieved in May. After fit-ups and occupation by staff and faculty in June, the building will be ready for classes in September.